Flooded Vehicles. . . More Than Cleaning to Consider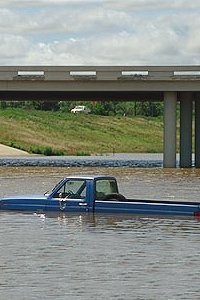 If your auto or light truck has been subjected to rising water or has been through higher water than it was designed to handle, it is crucial that professionals are involved in every step of the repair and restoration process.   There are instances where the estimate written by either the insurance company's representative or the repair facility may fail to consider the effects of just cleaning the various water damaged items. In many instances, replacement of control modules is prudent.
Especially if your vehicle is affected by salt water, surface cleaning of the various parts and modules is likely not enough.  As cars and light trucks have become increasingly complex, it is important to consider the long-term effects of any particular water-soaked part to your vehicle's performance and overall value.  Unexplained problems down the road are much more likely if wet modules are not properly restored or replaced.
Also, an inadequate repair in some cases may void your New Car Factory Warranty.  A Claim Master One Licensed Public Adjuster will help you make the best decisions and obtain the best recovery for your flood damaged vehicle.